I am down in Florida where white is in season all year long but in the North white is less common during the cold months.  While it may not be the most practical look for a cold snowy, grimy day there is really nothing quite as stunning as winter white.  I love the shades from oyster to cream. These looks from J.Mendel, Reed Krakoff, Alexander McQueen, Nina Ricci, and Derek Lam show the proper way to do winter whites.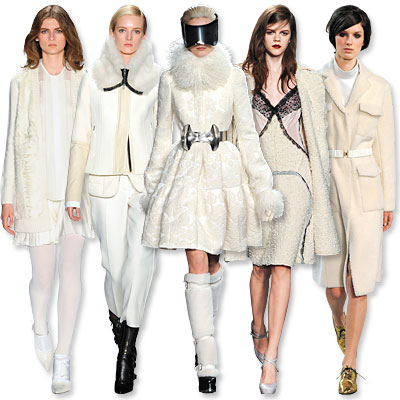 But do you really want to know how to wear winter white?  My advice is to take a style clue from the leading lady of my favorite holiday rom-com, Cameron Diaz as Amanda Woods in The Holiday.  Her wardrobe is absolutely stunning and Marlene Stewart's costume direction is unrivaled.  Here are my six favorite "winter white" looks Cameron rocked in the movie:
RALPH LAUREN
White Turtleneck Sweater with Buttons
CHRISTIAN DIOR
Chocolate Brown and White Shearling Coat
FRETTE   White Pajamas 
MIU  MIU 
  White Shearling Coat
LOUIS VUITTON  White Wool and Cashmere Coat
TSE CASHMERE
  White Cable Knit V-Neck Sweater
This season my favorite winter whites, using the runway and The Holiday as inspiration, are J. Crew's fabulous coats and J Brands wonderful corduroys.
Do you wear winter white?  If so, how do you wear it?