One of my best friends visited me from out west this weekend and we had a terrific time in Manhattan exploring, shopping, dancing, eating, and barely sleeping. This is the city I love and have had the privilege to call home for the past few months. If you only had 24 hours to spend in New York City this following list is what I would do: get here, start at the Met, then Central Park followed by various spots of 5th Ave, then Times Square, dinner at Becco, and lastly dancing at M 1-5. All of these spots are described below and mapped out at the bottom:
GET HERE: The best way to get into Manhattan from any of the surrounding airports has to be the bus. My personal favorite is the NYC Airporter shuttle because of the professionalness, speed, and flexibility. It is a fraction of the cost of taxis and, I believe, even easier when you have luggage.

THE MET: The Metropolitan Museum of Art, located at 1000 5th Avenue is my favorite museum in all of New York City. Keep in mind the admission price is just a suggestion, pay whatever you fee comfortable with. After dozens of trips to this amazing place here are my five "must-sees":
(1) The Egyptian Wing: The Temple of Dendur tops my list and most people I know would agree with me – this is a don't-leave-without-seeing attraction. The Sackler Wing of the Met has AMAZING floor to ceiling windows that over look Central Park that cast beautiful natural light on the temple all day. Go ahead and pose with it before stepping into the back temple and directly opposite the windows is the amazing story of how this temple came to live at the Met. And while you are marveling in the beauty do not forget to see the Sphinx of Hatshepsut which is to the left of temple.
(2) Tiffany Glass: I would argue that the Tiffany glass on display at the Met is the prettiest stain glass in the world. My favorite is the View Oyster Bay glass panel. You can find this piece along with some of Louis Comfort Tiffany's other amazing works in the Met's American Wing. I must admit, Tiffany is one of my aspirational designers which you can see from my suggestion to visit the flagship store below!
(3)
Arms and Armor
: This section might have to be my favorite wing of the Met and when my brother, who is 18 months younger, and I came here as children the soldier's armor seemed so big but as an adult you realize that none of these men were over 5'5″!! The gallery consists mainly of European warriors from the Middle Ages and the artifacts are so old that the shields are made of wood but the ingenuity of the weapons: spears, swords, axes, and bows, is magnificent!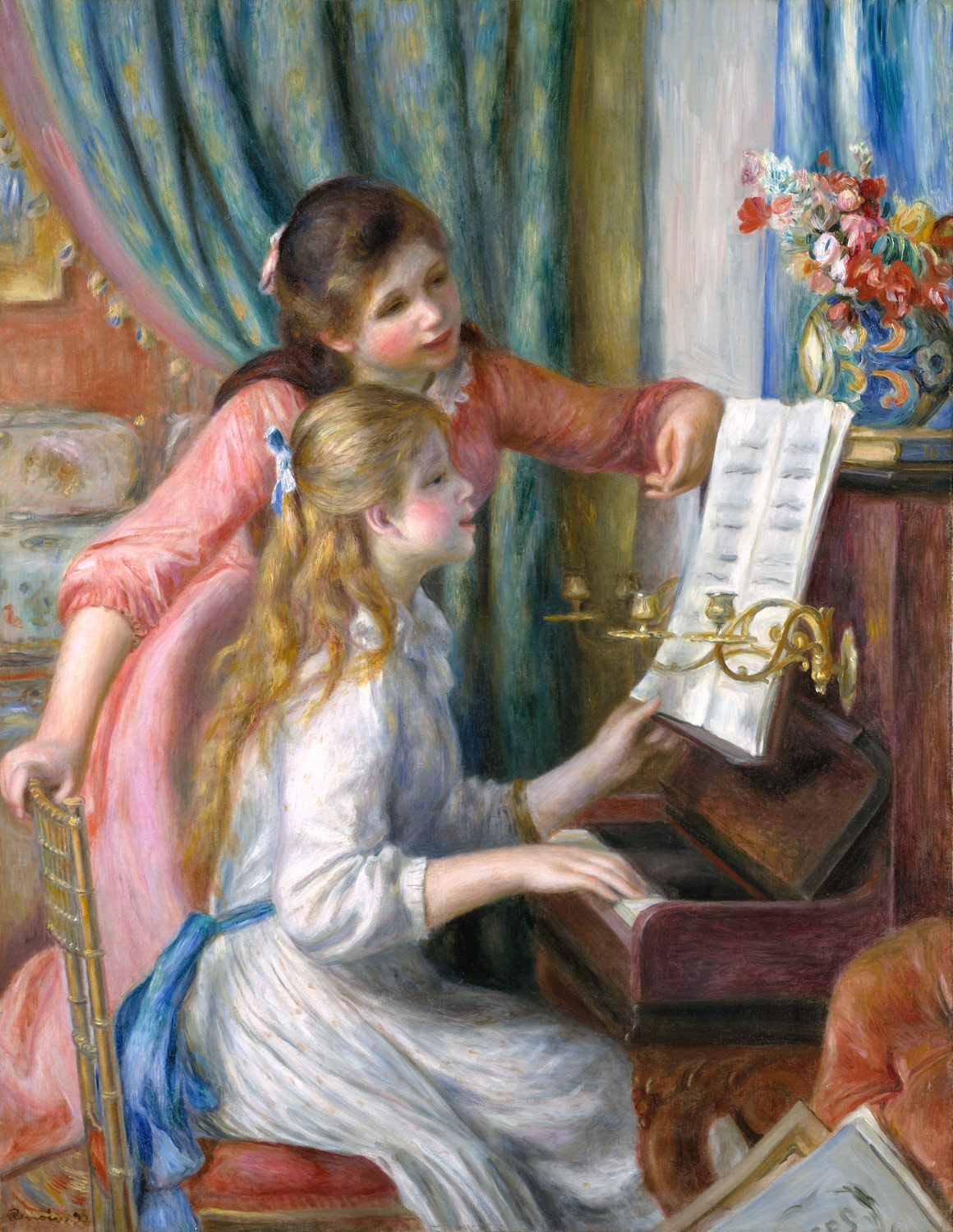 (4
)
Astor Court Chinese Garden
: Is a beautiful place to sit and think and admire some truly wonderful Asian Art. It is important due to it's cultural significance, as the first permanent cultural exchange between the U.S. and the People's Republic of China in 1981, however, I admire it for its serenity rather than it's diplomatic meaning. It is a re-creation of a Ming-Dynasty style courtyard and was built by expert Chinese craftsmen.
(5) Two Young Girls at the Piano: This piece by Pierre-Auguste Renior completed in 1892 has been one of my favorite since I was a little girl visiting the Met with my mother and younger brother at least once a month growing up. This oil on canvas painting is located in the Robert Lehman Collection.
CENTRAL PARK: After the Met you should take in this large expanse, 843 acres, of beautiful greenery in the most gorgeous city in the world. (but, of course, I am bias) No trip to this National Historic Landmark is complete without a stop to The Loeb Boathouse, a beautiful iconic building and gorgeous pond, and the Bethesda fountain with its' grand staircase. On Saturday when I was the tour guide we followed the East River drive to the South East entrance to the park.
5TH AVE.: Once you exit Central Park on Fifth Avenue and 59th Street take a leisurely stroll down the most famous shopping street in the world. There are so many amazing shops and tourist attractions but these are my musts:


FAO Swartz: (767 5th Ave, 59th Street) This is the oldest toy store in the United States and one of the most famous. This is their flagship store and it is an amazing place for kids of all ages, as you can see by my picture with the famous FAO dog, Patrick. My favorite attractions inside are the real-life toy soldiers, the extensive candy bar with 2 pound versions of gummy bears, Rice Krispy's, Twizzlers, and to top it off they have an oversize interactive piano you play with your feet .
Tiffany & Co. (727 5th Avenue) Regardless if jewelry is your thing or not you should pop in the world headquarters of Tiffany & Co. The world famous engagement rings are on the second floor and it is definitely worth the time. However, my favorite item to see at the store is the Tiffany Yellow Diamond, one of the largest ever discovered at 287 carats but since it has been cut is now 128.

St. Patrick's Cathedral (631 5th Avenue, 51st Street) Even if you are not religious St. Patrick's Cathedral, or The Cathedral of St. Patrick, is a stunning architectural site and you can enter even when Mass is being said. If you are religious, it is famous for being the seat of the archbishop of the Roman Catholic Archdiocese of New York. If you visit now, the outside is under construction, but the outside is as breathtaking as ever. PS. It is directly across from Rockefeller Center and the Atlas statue!
New York Public Library & Bryant Park (476 5th Ave, 41st Street) Make sure you check out Bryant Park which is directly behind it and where New York City fashion week is held twice a year. Of course, I also love this library because it is where Carrie and Mr. Big ALMOST got married in Sex and the City.
Empire State Building (350 5th Ave, 34th Street) No visit to New York City is complete with out a stop at this world famous 102-story skyscraper. If heights are not you thing it is fun to just marvel at the size, it was the world's tallest building for 40 years, and is still the second tallest building in New York after One World Trade Center.
TIMES SQUARE: After viewing the Empire State Building my advice would be to talk west to Herald Square and Broadway and then up Broadway to Times Square. This "crossroads of the world" is overwhelming your first time and is a crowded mob-scene if you are a true New Yorker. However, even after 20 years of visiting the flashing lights, crowds, tourists, and unique individuals make this pedestrian intersection a place like no other.
BECCO: Becco is Joe Bastianich's restaurant and is hands down my favorite place for classic Italian in the City and it is where I take everyone who comes to visit me. I went this weekend to this amazing eatery on Restaurant Row in the heart of the theater district and I love their innovative pasta tasting menu and extensive $25 wine list. You will likely need to make a reservation beforehand but it is well worth it!
A: The Met B: The Boathouse C: FAO D: Tiffany's
E: St. Patrick's F: The Library G: Empire State H: Times Square I: Becco
After dinner if you have any energy left and if nightclubs are your thing I suggest you head to M1-5 Lounge located at 52 Walker Street (between Church and Broadway). For a club in New York I love that there is no mandatory bottle service and when you are with a group of girls the line is never too long.
I know this was a long post but I hope you truly get the sense of what you would see on my perfect New York day! What are your favorite NYC spots?