I went from snowy Chicago to the freezing rain of New York City and all I want is warm weather…. I am SO excited to report that the color block dresses first spotted for spring 2011 are back with a vengeance At London Fashion Week in the Fall I loved this persistent trend with Jonathan Saunders tea-length dresses and Moschino Cheap and Chic took bright neon combinations but my two favorite looks were from New York's Fashion Week, of course, at Diane Von Furstenburg and Dior Spring/Summer 2013 shows:
I have been waiting to write this post for a while and it was Rachel Bilson's adorable color block O'2nd sleeveless dress seen on Tuesday night's episode of Hart of Dixie (one of
my favorite spring TV shows
). Dr. Zoe Hart paired this adorable dress with burgundy lace-up Marni heels, and a black Chanel purse and I absolutely love the look from head to toe!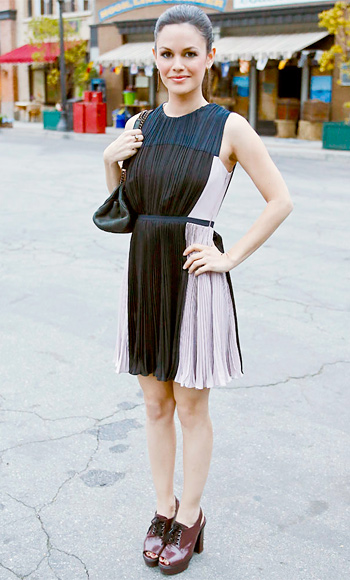 However, although Rachel's dress is adorable but after being stuck in cold snowy Chicago the past few days these are my favorite color block dresses for this season without a stitch of black in site:
Will you be wearing color block dresses this spring and summer?