Today is exactly two weeks until Christmas, so freaking exciting! Today is the 11th day of my 12 Days of Christmas and while I already talked about hot chocolate (here) I have yet to actually talk about holiday food and one of my favorites has to be gingerbread, not eating it though, but decorating it! I have been making Gingerbread houses with my family since I was very little! I remember buying candy, separating the red and green ones and eating the rest (I mean, yellow, orange, purple and brown are not really holiday colors – yummy)! Usually my brother and I would each get to decorate one side of the roof and our parents would vote on whose was better. Hint: we usually tied. This is one of those houses circa 1995.
This year I did the same thing except with my roommate: buy candy (gummy bears, peanut M&M's, Skittles, Sour Patch Kids, gum drops, and candy pieces), separate the red and greens and decorate. This is our "interesting" result:
We had such a great time decorating this gingerbread house! It may not be the prettiest one I have ever seen but it is made with all of our favorite candy and I am sure it will be delicious. It is much smaller than the one's I decorated as a child but it might have been even more fun. If I was going to make a massive one I would definitely use these as inspiration, and, of course, they are from Pinterst.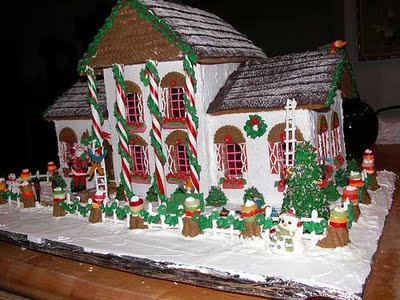 Do you make gingerbread houses? If so, do you bake them yourself or buy the gingerbread?
What is your favorite candy to decorate with?